Get your free HANX trial
Free orgasms included. Fancy condom deliveries scheduled to your sex drive? Set up a HANX subscription and get a FREE tester set to kick it off - just pay £3.50 P&P. Change, update or pause your subscription at any time.
Liquid error (sections/copy-subscribe-hero line 15): product form must be given a product
Your 10 pack Condom subscription will be billed at £11.04.
Your first order will deliver 2 weeks after your free set, and then will continue at the frequency you've selected.
How it works
First one is on us
Experience our vegan, all natural condoms and lube with our free starter set
Discreet delivery
No nosey neighbours here - easily choose and update your delivery schedule
You're in charge
Cancel, skip or change your order at any time
What's inside
A HANX subscription has all you need for a happy sex life in one easy to manage plan. Subscribers get 15% off and free shipping.
A free sample set. That's 2x Condoms and 2x Lube Sachets gratis.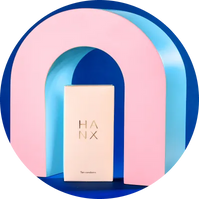 Then, regular deliveries of the HANX sustainable Condoms 10 pack.
£11.04 (15% off!)
Why HANX
Ultra-Thin Feels
Our condoms are VERY thin. 0.05500000mm to be exact, some of the thinnest in the world. That's the width of a lonely little pube.
Formulated by Experts
Our Co-Founder is a gynae, so she knows her stuff. Our condoms are verified by the CE mark and undergo rigorous testing for maximum safety.
Vegan certified
The only animal in the bedroom is you. Unlike the Johnny Big Boys, our condoms and lube are officially free-from animal by-products.