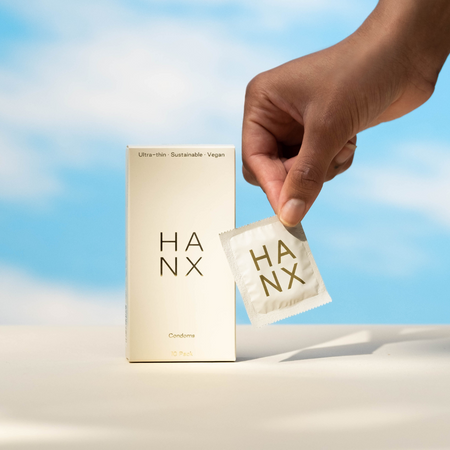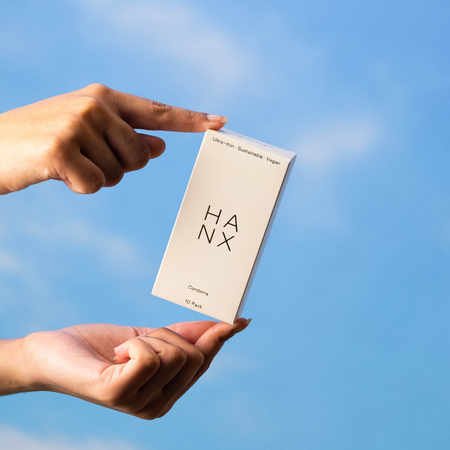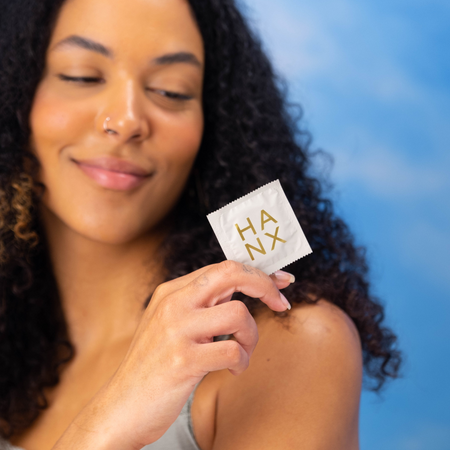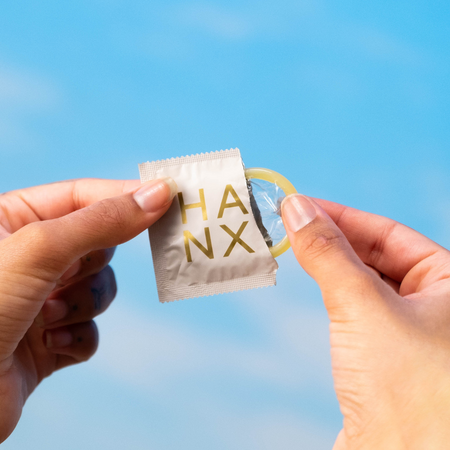 Condoms
Sustainable
Ultra-thin
No harsh chemicals
Gynae-approved
Our top-rated ultra-thin, vegan condoms are now available in the US.
Sustainably sourced and designed by a gynaecologist, they don't have any unnecessary chemicals and are kind to the planet and your body.
Choose from Standard or Large size and get set to get it on...
📦 Delivered discreetly
Shop this product in the UK
Why we love them
Fact: many of the johnnie big boys use unnecessary chemicals in their condoms which can cause UTIs. We've developed our condoms to be as natural as possible, with no harsh chemicals.
How to use
Pro-tip
Did you know oil can break down latex? Make sure to use a water based lubricant if you're doubling up for extra motion in the ocean - and peace of mind.
The Inside Scoop
Rated 4.8 out of 5
Best condoms
Vegan ✅ No babies made ✅
Comfortable
Comfortable, and so much more feeling than with the regular product
Thank you
Contraception made with women in mind
After struggling with contraception for so long and hating the feel of generic c...
As a vegan I found it really hard to…
As a vegan I found it really hard to find contraceptives/condoms so I am super h...
Burning questions?
Are HANX condoms safe?
Yes, HANX Condoms are verified by the CE mark and undergo rigorous testing to ensure maximum safety. HANX Condoms are also FDA approved. Condoms are a reliable protection but no contraceptive can protect 100% against pregnancy, HIV and/or sexually transmitted infections.
How thin are your condoms?
Condoms don't get much thinner. Ours are only about 0.055mm to 0.065mm thick. Struggling to picture how thin that is? Same. So we looked it up. And to use a very topical analogy, it's roughly the width of one lonely, little pube.
So, what's the difference between Standard and Large Size?
It's all about the width, baby. Standard: Nominal width = 53mm, Length = 185mm.
Large Size: Nominal width = 56mm, Length = 195mm.
What exactly is in HANX Condoms?
Our Condoms avoid unnecessary chemicals, and our ingredient list is: Natural latex, Silicone Oil, Magnesium, Kaeflo/ Absorbo, and Silicone LE.
Are HANX condoms vegan?
Absolutely! Our condoms are free-from animal by-products such as casein (often found in other condoms) and we are officially certified by The Vegan Society.
What are HANX condoms made from?
HANX Condoms are made from latex, and all materials are responsibly sourced.
Is there any added scent?
Nope - our Condoms are scent free!
How is HANX sustainable?
We always look to be as sustainable as possible. We have reduced energy consumption, chemical load, and waste. Our production has a waste water treatment and compared to plastics, rubber articles degrade very quickly.
Our condoms are made from latex which has been responsibly sourced and traded.  Our outer boxes are made from recyclable cardboard. For now, our condoms are wrapped in foil, as a medical device they need to stay fresh. We are always looking to improve our sustainability and open to new advances in packaging to do so.