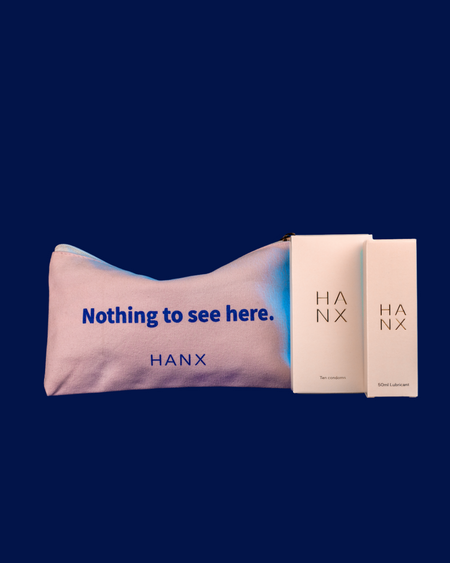 The Bestsellers Bundle
Now that's what we call value. We've created a kit of the greatest hits of HANX, bringing together our most popular products in one handy kit - and you'll save a cheeky £7 off RRP, too.
The Bestsellers Bundle includes: 
1 x our 10 Pack of Condoms (RRP £12.99). The first thing we ever launched, the has been a steady winner ever since. Why? Ultra-thin, vegan, biodegradable condoms. Plus: no nasty, rubbery, chemical scents here. 
Let's up the stakes. It also includes 50ml bottle of our super-gentle, water-based Lubricant (RRP £14.99). It's safe to use with condoms and sex toys, and proudly unflavoured - no thrush-inducing sugary cherry flavouring here!
Our brand new Subtle Pouch (RRP £6.99) has been stealing hearts since it dropped. It's perfectly sized to fit a pack of HANX and a Lubricant, plus any other sexual wellness essentials/snacks you might want to carry around.

The Inside Scoop
Rated 4.8 out of 5
Best condoms
Vegan ✅ No babies made ✅
Comfortable
Comfortable, and so much more feeling than with the regular product
Thank you
Contraception made with women in mind
After struggling with contraception for so long and hating the feel of generic c...
As a vegan I found it really hard to…
As a vegan I found it really hard to find contraceptives/condoms so I am super h...
Burning questions?
Are HANX condoms safe?
Yes, HANX Condoms are verified by the CE mark and undergo rigorous testing to ensure maximum safety. HANX Condoms are also FDA approved. Condoms are a reliable protection but no contraceptive can protect 100% against pregnancy, HIV and/or sexually transmitted infections.
What's the difference between Standard and Large Size?
It's all about the width, baby. Standard: Nominal width = 53mm, Length = 185m.
Large Size: Nominal width = 56mm, Length = 195mm.
What are HANX Condoms made from?
HANX Condoms are made from latex, and all materials are responsibly sourced.
Are HANX condoms vegan?
Absolutely! Our condoms are free-from animal by-products such as casein (often found in other condoms) and we are officially certified by The Vegan Society.
Is HANX Lubricant suitable for oral, anal and vaginal sex?
You bet! It's gentle, pH-balanced, flavourless, vegan and safe to ingest.
Can you use HANX Lubricant with condoms?
Yes, our water-based formula is safe to use with condoms AND sex toys, too.